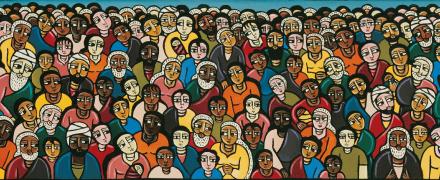 Happy Moltmann Monday! Today's selection is from The Church in the Power of the Spirit in a chapter on the Church of the Kingdom of God (bold mine):
Historically, mission and the spread of Christianity created certain particular centers: the Roman empire, Europe, and America. As a result a Christianity came into being which was centered on Rome; later this was followed by a Christianity centered on Europe and America…

In modern times, hand in hand with North Atlantic colonialism and imperialism, Christianity then spread all over the world…

Christianity is more or less present in all nations. But it is frequently only present in its Western form. Indigenous forms must therefore develop, so that an authentic Indian, Chines, Japanese, Indonesian, Afrian and Latin American Christianity may grow up, with corresponding indigenous theologies.
Honestly, I think this is one of the most important, central things we must know if we are Western Christians– our form of Christianity may be dominant (for now…and even that's highly debatable), but it is not, and never has been, the only or even the best form. This is one of the most powerful experiences I took home from my pilgrimage to the Holy Land last January. To see so little Western Christianity in the holiest places of our faith is to remember how long our history is, and how influential our Orthodox Christian family is, and to realize how incredibly global our faith is. I found no place that looked anything like my house of worship. I found very few places that would be recognizable to many Christians in Dallas, TX. The question is: when we experience that dissonance, are we going to think everyone else is doing it "wrong," or are we going to realize that our form of worship is a beautifully small picture of the way the whole world has embraced the person of Jesus?
If we are going to act like only Western Christianity is "right," we are missing out on so, so much. 
I think it's beautiful that so many of God's children worship so differently. I have no desire to squelch that or regulate it. Sure, there are forms that I prefer. Much as I appreciate Orthodox Christianity, I don't worship with them on Sunday mornings. But when I worship in my radically different form, I remember them. I realize that my way of doing and being Church is not the only way. I see the richness of their theology, and how they decide to live into that theology in the way they worship. We agree on so many things, despite how differently we choose to express them.
Nearly 2.2 billion people on this planet confess Jesus as Lord. That's 1/3 of the world's population. We aren't all going to worship the same way. And we don't need to worship the same way. How many ways are there to embody what it means for Jesus to be Lord, to make that confession real in the midst of our culture, history, and personal lives? Well, it's been 2000 years and we're still coming up with new forms. If they point to the Christ–even if we don't understand them, even if we wouldn't choose to do them ourselves–let's see them as not only valid, but valuable. Perhaps we will be opened to a new way of seeing God, and will be the richer for it.