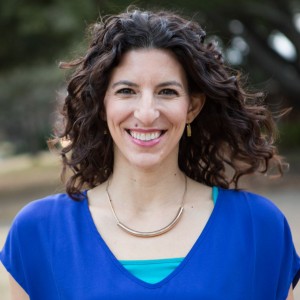 Danielle Shroyer is an author, speaker, spiritual director, and former pastor. A founding member in the emerging church movement, Danielle served as the pastor of one of the nation's first independent emerging communities of faith for nearly a decade. Her primary goal as a pastor was to help people going through a season of spiritual deconstruction find healthy, sustainable, and meaningful ways to reconstruct their faith.
Danielle has a particular heart for the spiritual-but-not-religious, and has long advocated for fresh approaches to spiritual community. Over the years, she has offered guidance to struggling and transitioning congregations searching for new ways to embody their purpose.  She continued this work through her involvement in Faith Forward, a conference highlighting diverse voices and holistic perspectives of spiritual formation for children and youth. Danielle also participated in a number of leadership positions in Emergent Village before serving as National Co-Director for two years.
Danielle's first position after seminary was as a chaplain in a retirement community, serving primarily in the memory-care unit, which continues to inform her work today. She also spent a year as the assistant chaplain at Southern Methodist University, supporting the spiritual life of the student body as well as the many religious student groups on campus. In recent years, Danielle has been mentored by Buddhist practitioners, an experience that has deepened her own Christian faith while expanding her appreciation for the ancient wisdom in other traditions. You can find her reflections on meditation and other grounding spiritual practices at www.beasoulninja.com.
Danielle has received spiritual direction since 2012, and is mentored by her own spiritual director in the Episcopal tradition and lineage. She is a member of Spiritual Directors International and is currently pursuing further spiritual direction training through the Haden Institute. She sees clients regularly and considers this to be a natural extension of her vocation as a pastoral companion to those who seek the holy.
Danielle is the author of Original Blessing: Putting Sin in its Rightful Place (Fortress Press, 2016), Where Jesus Prayed: Illuminations on the Lord's Prayer in the Holy Land (Paraclete Press, 2016), and The Boundary-Breaking God: An Unfolding Story of Hope and Promise (Jossey-Bass, 2009). She is a contributor to the Common English Bible Women's Edition (2016), and Faith of Our Mothers, Living Still (2017), an overview of the history of women at Princeton Theological Seminary. She has been featured in magazines such as The Christian Century and Immerse youth ministry journal and a number of podcasts and radio shows, including Minnesota Public Radio.
Danielle
lives with her husband and two children in Dallas, Texas. She's a self-declared nerd who reads voraciously and enjoys in-depth conversations about stuff some people may find boring. What she loves most in the whole world is watching someone do what makes their soul come alive. When she's not writing or speaking, you can often find her at the yoga studio or in her taekwondo dojang. She holds a B.A. from Baylor University and an M.Div. from Princeton Theological Seminary.